$10,994.00
Gas Hob Electric 

Functions & Features
The ultimate range for cooking up delicious cuisine, Falcon's quintessential Elise is inspired by generations of gourmet excellence.  One glance at this chic range cooker is all it takes to identify its distinctly continental design direction and will instantly bring a touch of French-inspired flair into your home.  Featuring both a multi-function and fan forced electric oven with 2 telescopic shelves (left hand oven only), a glide-out separate grill and 5 gas burner hob including wok burner, there is ample space to bake up a storm.
Specifications
Oven
1 x 79 litre Multi function electric oven (left oven) 
1 x 67 litre fan forced electric oven (right oven)
Base Heat
Browning element 
Defrost
Conventional oven
Fan assisted 
Fanned grilling 
Fan oven 
1 oven lights
Catalytic oven liners – sides LH oven
Separate glide out grill
Cooktop
5 x burner cooktop:
- 1 x triple ring wok burner 3.8 -15.2MJ«
- 1 x large burner 3.0 -12.3MJ
- 2 x medium burners  1.55 - 6.2MJ
- 1 x small burner 0.82 - 3.7MJ
Flame failure safety device
Heavy duty matt cast iron pan supports
Easy clean stainless steel cooktop surface
Wok cradle and optional professional griddle plate
Clearances
Allow 5mm on either side of the stove for fitting tolerance. If fitted near a corner, a clearance of 130mm is required to allow for oven door opening. The stove should be on site prior to final fitting of units and worktops to ensure a perfect fit.
Total power 7.4 kW / Connected load: 33 amp Warranty period (Years) 5
Colour Options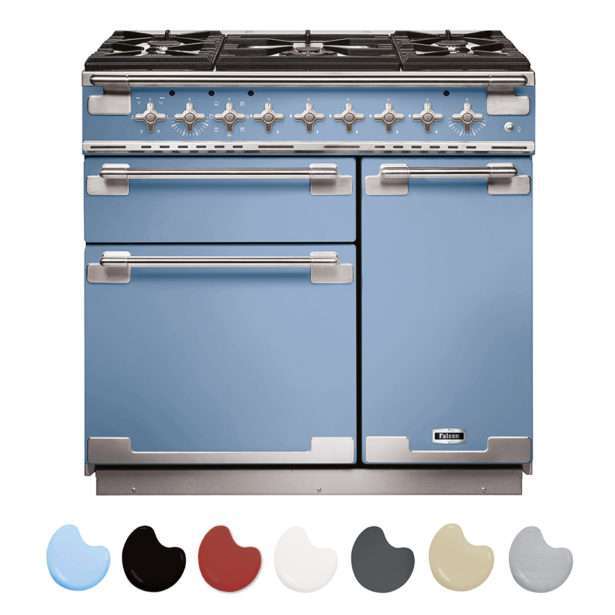 Burner Configuration